«RUTH HANDLER (1916-2002), creator of the Barbie doll, founded Mattel, Inc. with husband Elliot Handler, and revolutionized the doll industry.
She was born on November 4, 1916 in Colorado. She married Elliot Handler and had 2 children called Barbara and Ken.
The first Barbie she made took 6 years, she melted the plastic and painted the eyes and lips, her husband helped her.
In 1960s she made a million dollars, that made her rich.
The doll became very popular and were sold all over the world.
She died on April 27, 2002, at the Century Hospital in Los Angeles, California.
RUTH AND ELLIOT HANDLER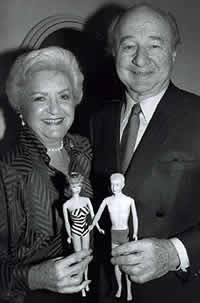 Creadora de la muñeca Barbie,fundó Mattel, Inc. con su marido Elliot Handler, y revolucionó la industria de la muñeca.
RUTH HANDLER ( 1916 - 2002) Nació el 4 de Noviembre de 1916 en Colorado.
Se casó con Elliot Handler y tuvo 2 hijos llamados Barbara y Ken.
La primera Barbie que fabricó le llevó 6 años, derritió el plástico; pintó los ojos y labios con ayuda de su marido.
En 1960 hizó un millón de dolares,que la hizo muy rica.
Esta muñeca se volvió muy popular y fue vendido por todo el mundo.
Ruth Handler murió el 27 de Abril del 2002, en el hospital Century en Los Angeles, California.